Patients Name:  Mr. Vikrant
Age: 32 Years
Grafts: 3200
PROCEDURE: Advanced FUE Hair TRANSPLANT
CLINIC: FCHTC (PANCHKULA)
The 32 years old patient had undergone hair transplantation within First Choice Hair Transplant & Cosmetics clinic in Panchkula, Haryana. He searched for a clinic in and around Punjab and Haryana at last he was satisfied after consulting the FCHTC clinic in Panchkula after meeting the surgeon and the way he was treated by the staff. The patient a lower front line and get back his natural look.
Hair follicles were plucked out from his donor area in equal amounts and implanted at an evenly distance on the front line. The hair follicles were extracted from the donor area without any discomfort to the patient. The overall procedure was done manually and was performed by a certified and specialized surgeon in FUE.
The dressing on the donor area and the recipient area was removed the next morning.
After three days the donor area was completely healed without any scars.
The patient took his first shower after the surgery as per the instructions given by the surgeon.
The patient was able to get back to his normal routine after the third day.
After 15 to 25 days of surgery small hair follicles could be seen on the implanted area with hairs growing out naturally.
At the end of first month, around 40% of the old hairs were shedded and new hair follicles could be seen erupting up.
 After Six months 60% hair growth could be seen on patient's head.
Around the 8th month the patient could see about 90%of growth in high density.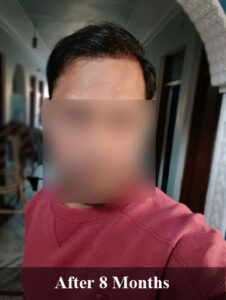 At last, Compare the final results of patient. He is now very happy with the results he get.
Patient's Comment:
"I searched a lot to get a hair transplant surgery. I visited some of  the clinics in Chandigarh & Panchkula. I chose First Choice Hair Transplant & Cosmetics and I'm glad for that. I am very pleased with the results, more than I expected."